I am the Reverend Barbara Lynn Chambers, a Shamanic Practitioner and Sound Healer, located in Northern Virginia near Washington, DC.
I have been involved in the healing arts since 1996. Although the core of my work is primarily shamanism, sound healing has become a very important part of my healing practice. The merging of these two worlds has produced a new paradigm that I call Shamanic Sound Healing.
This work is transformational and has helped many people find their inner voice, speak their truth and stand solidly in their power. It can assist you in healing past traumas, resolving relationships, and finding your unique purpose in this lifetime. All that is required is for you to say "yes".
It is my connection to Spirit that has propelled my passion and love for this work, and I humbly share these gifts with you in the form of private sessions as well as occasional workshops and retreats.
I do believe that you were led here for a reason–there are no accidents–only opportunities for healing, renewal and growth. The door is open for you to enter……    
Allow me to assist you in taking your first steps onto "the red road" to begin your healing journey.
Blessed be, AHO!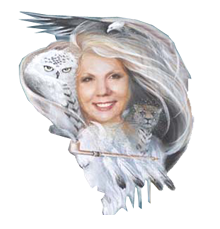 Shamanic Sound Healing
Connecting the spiritual and physical worlds for the purpose of healing using various instruments and sounds. Learn more…
 Offerings
Lynn offers healing sessions and ceremonies that will aid you in your life's journey.
Lynn's Journey
Read about Lynn's path to becoming a spiritual healer. Learn more…

References
"I have done two Shamanic Journeys as well as Shamanic Sound Healing and Karmic Release work with Lynn. She has helped me to heal wounds with my father which has helped me to move forward in my life."
"As a modern-day Shaman & High Priestess, the work of Lynn Chambers is infused with integrity. Lynn is highly intuitive; a compassionate healer who listens deeply and carefully assesses the individual needs of her clients. Drawing from her years of training in a myriad of healing modalities, she first identifies, then sacredly works to clear any discordant energies and/or emotional blockages discovered. A healing session with Lynn paves the way to a more joy-filled, balanced life. Without reservation, I highly endorse her Shamanic work; she is a trusted sister traveling The Sacred Path. "
"In the past decade, I have both witnessed and participated in the remarkable strength of Lynn's energy work. I truly honor and value her expertise. She evokes trust and understanding for self, soul and spirit. Personally, I found that a significant shift appeared in myself after my initial work with Lynn; and, has uniquely reappeared during the days, weeks, months, lifetimes hereafter. There is a solid resonance from Lynn that quiets the busy conundrums of this incarnate time. She is my talented and attentive teacher, listener, healer and helper. I respect her studies and care of knowledge. I am so fortunate to have her genuine insights and smart abilities in my life's journey. Thank you, Lynn, for everything past, present and future!"
"Lynn is a beautiful and intuitive soul full of love and radiant light. Her gifted guidance to access the knowledge and sacred information through beautiful ceremonies, chakra clearing sessions and breath-taking and purifying shamanic journeys allowed me to deeply connect with my higher consciousness, realize reasons for change and have a clearer understanding of my personal journey. Every session I had with Lynn introduced me to a part of me I have forgotten. Every journey empowered me to embrace and own the gifts and strengths I meant to have. Lynn – is a powerful healer! It is an infinite blessing and joy to know Lynn and have the ability to journey with her to places my soul has been before."
"Several years ago, I was at the bottom of my barrel. My husband had just walked out on me, and I had lost my job due to a chronic illness. I was basically embolized and had moved into a very dark night. Then I found Lynn. She took her time, compassionately talking to me before her work began. A few days after our time together I felt very different and realized I had moved into my power. She walked with me during the worst time of my life. I am so grateful for Lynn and her magical ability to heal and help me to reveal who and what I am. Lynn is the real deal, filled with love, light, power, and compassion. Today I am totally empowered, thriving and living my purpose! Not only did I heal, but I ended up finding my power."
Having known Lynn for 30 plus years, I feel honored that she has been part of my life journey. Lynn is a special person. I see her as an old soul that has acquired much knowledge as a healer through her many past life experiences. When you first meet her you are immediately aware of her spiritual energy full of compassion and wisdom. Lynn is a natural healer of mind, body and spirit, this combined with her special ability and years of study make her "A Shaman of our Times"
"For more than 20 years, Lynn has helped me through many life changes with her wisdom, grace and powerful healing gifts. Every time I call, she is ready to help. As soon as I hear her soothing voice, I began to relax. Though each session is uniquely suited to whatever is needed at the time, I always experience a shift in energy and a wonderful reset in my attunement with the Universe. Lynn's compassion, fortitude and loving kindness are a true gift and a Divine blessing."
"The first thing I noticed when I met Lynn Chambers was her heart. It is huge and full of love. She welcomed me into her space with grace and comfort. She accepted me in whatever state of being I was in at the time. With calm and compassion, she talked with me about my concerns and what I hoped to achieve through a shamanic session with her. The healing ceremonies have been positively transformative each time I've worked with her. My intuition has improved immensely and I have a greater confidence in my ability to know when I'm off course. This knowing helps me take appropriate action when needed even when the "action" is to sit still and be quiet."
"Lynn and I have been traveling this path together for over fifteen years. I have seen her remember and relearn the ancient ways of healing. In her work she brings forth the power of the Divine Feminine, so that all can feel that love and power. She truly is the Shaman and Wise Woman. Her gifts of having an open and loving heart allow her to channel Spirit for the Highest Good. She intuitively knows what spiritual tools to use to achieve the greatest healing. I personally had a very powerful experience in her Sound Healing Retreat of releasing trauma from a previous life. In one of her private sound healing sessions I felt very expanded and traveled out of my body to receive significant information for my own growth. I highly recommend you experience Lynn's healing gifts to help you move forward on your spiritual journey."
"After scores of years searching, and interactions with as many practitioners, Lynn is one person that I return to for true, life altering healing work. Her integrity and purity of intention, I believe, are integral parts of why she is such a profound guide. We might be blessed with only a handful of deeply transformational healing experiences in our lifetime. Lynn's work has consistently been this for me."
"I've known for over 15 years, and I've seen her grow and evolve into a powerful healer. In our sessions, Lynn makes a heart to heart connection and intuitively knows exactly what I need. With Lynn's guidance we set the intention for the session knowing it's all working for my higher good. My Tibetan sound healing session with Lynn was amazing and I immediately felt my vibrational energy lifted – a truly extraordinary experience. I've experienced Lynn's extremely powerful pipe ceremony – she truly transforms into White Calf Buffalo Woman and you feel part of a sacred circle. This experience touched my soul deeply and awakened me to a world of ancient rituals. Kind, knowledgeable, intuitive, powerful, approachable, giving – these are just few words to describe Lynn and her healing work."
"Working with Lynn has made significant changes in my life each time. I have experienced Shamanic Journeys, Shamanic Sound Healing, Soul Line Clearing, and Karmic Release work. I have left feeling fatigued because the work went on for days following each session. I continued to detox physically and emotionally. My spiritual side began to soar! I highly recommend Lynn."
"I experienced a Shamanic Journey with Lynn. It allowed me to release old emotions which in turn allowed me to release my home of 17 years. This allowed my wife and me to buy our own home after being together for 10 years."